Our award winning television show is now available on DVD!




Buy the VHS version at
Amazon!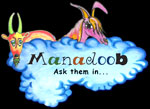 Discover the Secret Connection Between Humans and Animals at www.manadoob.com
Fur, Fins & Feathers M.D. is television programming dedicated to entertain viewers with incredible heart warming insight into the remarkable relationships between mankind and animalkind.
| | | |
| --- | --- | --- |
| | | Click me to see our new animation series |
Our documentary, Kids & Animals – A Healing Partnership explores the amazing benefits of animal-assisted therapy. We researched and talked to many highly respected organizations involved with animal-assisted therapy. What we discovered is amazing diversity in the animals involved in this therapy. We also came to know a lot of kids with a variety of challenges in their lives that benefited greatly from their involvement with animals. Health improves, quality of life improves and the feeling of independence increases. Lives that are touched by the partnership between human beings and animals can change in the most positive ways.
Our exploration developed into a hopeful and heartwarming one-hour television special aimed at bringing this information to millions of people all over the world.
Fur, Fins & Feathers, M.D. wants to educate and help people. We want to make people laugh and make people cry, but most of all we want to share with as many people as we can the wonders of having animals in their lives.